M.A.D. Renovations – Calgary
Custom home renovations for Calgary & area
M.A.D. Renovations is a family owned Calgary renovation company committed to the highest level of customer service. We specialize in the complete remodeling of your living space, including kitchen renovations, bathroom renovations, as well as all other aspects of home remodeling. Whether you are looking to renovate one specific room or your entire home, M.A.D. Renovations would like to be your Calgary home renovation choice.
*Our business name, M.A.D. Renovations, is an acronym for our children's names.
"We are thrilled with our kitchen renovation & wouldn't hesitate to recommend MAD renos. Lawrence & his crew were prompt, professional, courteous and made several helpful suggestions along the way. We wouldn't change a thing in our new kitchen." – Laurel
---
M.A.D. Renovations – Calgary
403-630-6311
Kitchen – Bath – Living Space
Partial or complete custom home renovations – Calgary & area
Click For A Free Home Renovation Quote
---
When you are looking at hiring a Calgary renovation company, it is imperative you hire an experienced and trusted firm. M.A.D. Renovations works with a team of professional architects, engineers, designers and tradespeople providing you with the quality craftsmanship and design you deserve and expect. Prior to beginning the enhancement of your home M.A.D. Renovations will design complete working drawings and will provide you with an accurate quote eliminating any hidden costs, thus enabling you to make better-informed decisions.
M.A.D. Renovations is here to serve you
Calgary Kitchen Renovations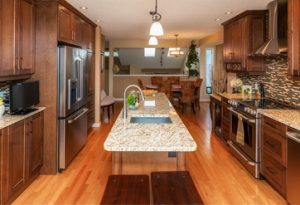 No doubt, your kitchen is the heart of your home. It is where your family gathers multiple times during the day and where you celebrate special occasions and entertain your friends. The best kitchen designs begin with a lot of work up front. We take our time to discuss your wants and needs while evaluating your current space. Key elements in today's kitchen designs include creative storage solutions, functional working spaces, ample seating and proper lighting (and ALOT of it!). Whether we are eliminating walls and adding square footage or working with your existing layout, M.A.D. Renovations will help you create the most functional and stylish kitchen that reflects who you are!
---
M.A.D. Renovations – Calgary
403-630-6311
Kitchen – Bath – Living Space
Kitchen renovations – Calgary & area
Click For A Free Kitchen Renovation Quote
---
Calgary Bathroom Renovations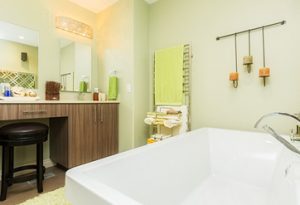 Ensuites and bathrooms are the most personal living spaces in your home and require detailed consideration to ensure the best function for your family's habits and lifestyle. Maybe you no longer use that jetted tub and would prefer to increase the size of your shower, perhaps you are even considering a steam shower! Tired of sharing a sink with your partner? M.A.D. Renovations will design your bathroom to suit your needs. We are also proud to be certified Schluter Systems waterproofing installers. Our team of expert staff and trades can transform your bathroom into a beautiful and functional spa retreat!
---
M.A.D. Renovations – Calgary
403-630-6311
Kitchen – Bath – Living Space
Bathroom renovations – Calgary & area
Click For A Free Bathroom Renovation Quote
---
Calgary Living Space Remodeling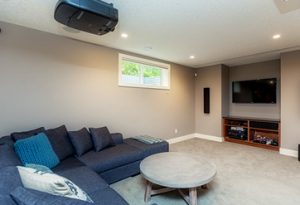 Updating your home can be as simple as upgrading your existing finishings (i.e., lighting, flooring, trim, baseboards, paint, etc.) or as detailed as removing walls to create an open concept floor plan. Either way, we can make your visions become reality. M.A.D. Renovations can redesign and remodel your entire living space or work with one room at a time. We pride ourselves in offering the most realistic and comprehensive assessment of the requested job while adhering to your budget.
Perhaps you are working from home and want to add an office to your main floor, or the children are grown and have moved out and you are looking to expand and create your perfect master suite? Let us show you how you can achieve this!
---
A few commonly asked renovation questions
1) We are looking at renovating our kitchen, what is the next step?
Kitchen renovation questions are the most common inquiries we receive. The first step with respect to a kitchen renovation is to get in touch with us. Together, we will schedule a free on-site consultation and explore your vision and what you want your dream kitchen to look like. M.A.D. Renovations will be pleased to exchange ideas with you and provide you with expert advice. During our second meeting, we will review a preliminary design and quote with you.
2) How long will my kitchen renovation take and how long will it be before I can cook in the kitchen again?
The answer to this depends on the scope and extent of your kitchen renovation. Typically, we can have you back to cooking supper in your kitchen within two weeks. Once your cabinets are installed, we will provide you with a temporary countertop, sink, and faucet while your new countertops are being manufactured. This allows you to utilize your kitchen even while the renovation is ongoing. Our average kitchen renovation takes six to eight weeks to complete.
3) If we decide to do this renovation, when can you start?
We will typically start two to three months after the contract signing. This allows us time to finalize our design, make selections, order materials, and schedule our trade's people.
M.A.D. Renovations is a successful family business; both owners are readily available to answer any questions you may have. M.A.D. Renovations is with you from the very start of the process, through to the completion of having made your dreams become reality.
With decades of renovation experience, it is M.A.D. Renovations commitment to you that when working with us you will experience the very best in design, quality of workmanship and customer service. The majority of M.A.D. Renovations projects each year are performed for either our past clients or for people who have been referred by them… a remarkable achievement in an industry notorious for very low referrals.
---
M.A.D. Renovations – Calgary
403-630-6311
Kitchen – Bath – Living Space
Partial or complete custom home renovations – Calgary & area
Click For A Free Home Renovation Quote
---
Calgary SEO - AndyKuiper.com